CONTACT US
770.222.5159
Monday - Friday
between 9am - 5pm ET

Email us
Get Published NOW!
Compare Packages
Packages start at $499. All includes custom web design
compare
Visit Our Bookstore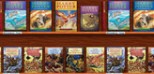 Welcome
Wright Book Publishing was created by a group of literary experts, including authors, editors, graphic designers and project managers. We are here to assist you in achieving your publishing goals. You retain all rights.

We offer affordable book publishing packages with 60% royalties. We provide everything you need from ghostwriting to book cover design to book marketing.

We are a self publishing company however; we do not accept and publish every manuscript received.